Jubilee Caravaning Brno to offer one more hall
October 7, 2023 / 10:00 AM
Getting to know new regions, an active holiday with family or friends or relaxation outdoors, far from civilization. Whatever your reasons for travelling with a caravan are, you should definitely not miss the CARAVANING BRNO show. It is one of the most notable events of its kind in the Czech Republic and has its own unmistakable atmosphere. On an area of 18 thousand square meters, it offers every year a complete parade of motorhomes and caravans, including accessories and equipment, in short, everything that is needed for independent travel. This is also the reason why almost 25 thousand visitors interested in travelling and camping come here every autumn. This year's twentieth jubilee edition will be even bigger than the previous ones, featuring one extra hall focusing on outdoor adventures.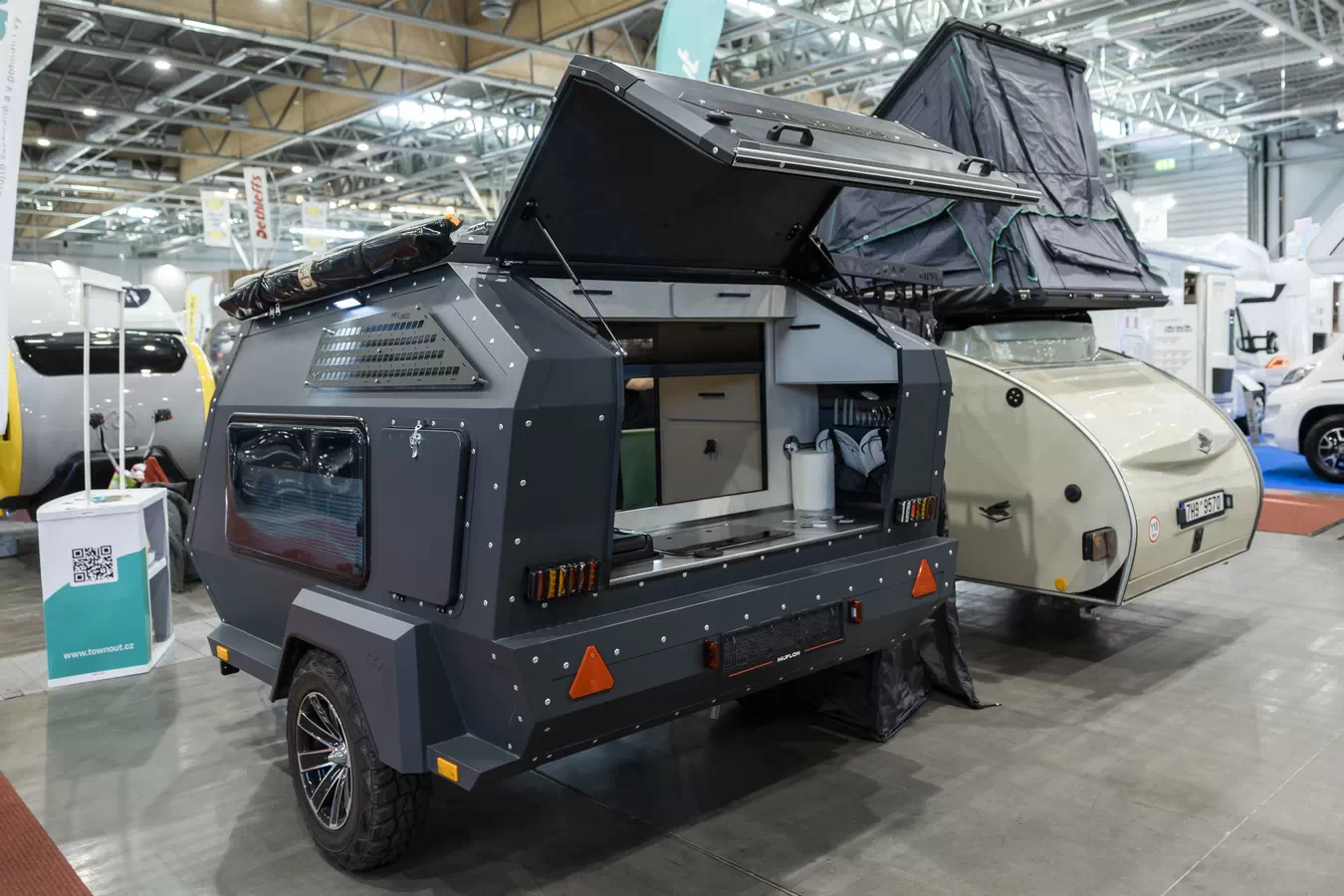 Adventure Hall G1 for adventure travel
It is a tradition that the exhibition always occupies the two largest Halls P and F of the Brno Exhibition Centre. This year, Hall G1 will join them! "The third hall, called 'Adventure Hall', will be prepared especially for visitors who like to travel outside the comfort of campsites and maybe even like to customize their four-wheeled pets for individual needs. We already observed this trend during the previous edition, and that is why we decided to support it," says the exhibition manager Simona Křečková. According to her, the offer of traditional motorhomes and caravans will also be visibly expanded this year to include off-road caravans, mini-caravans, built-ins, extensions, and the increasingly popular car rooftop tents. And, of course, there will be a range of accessories and equipment needed for adventure travel, in any weather. Hall G1 will also host an extra programme featuring popular travel books, interviews with travellers, advice, and tips for do-it-yourselfers. Preparation for travelling with children will also be a good topic.
Halls P and F full of brands, including premium
Lovers of premium brands will traditionally find their darlings in Hall F, where more luxurious motorhomes and caravans will once again be presented in full glamour. Motorhomes and caravans of various renowned brands will then completely occupy Hall P, from smaller compacts to cars and trailers for large families. The selection will be really large also in terms of designs and equipment with the latest technologies. Hall P will also host exhibitors with accessories and equipment for camping, indispensable for life with a caravan. Czech and foreign campsites and regions will also be presented here, so visitors will get an overview of where and under what conditions they can go with their motorhome. Travel lectures will be held on stage for inspiration and, as always, technical advice for support.
Traditional stars will not be missing, and new companies will join in too
Which brands can we specifically look forward to? There will be traditional exhibitors such as
Auto Bayer, AZ service, Caravan Centre Moravia, Caravan Centrum Pardubice, CARAVAN Plus, Caravan Metropol, Centrum Moravia, CWN (CampingWorld Neugebauer), Karavan Travel, Top Trade and many more. New companies such as BM Box, FullVans, Karavany Lubná, Komaniac or Reka karavany will present themselves at the expo. In addition to new cars and caravans, visitors can also look forward to the opportunity to purchase preowned items as a more affordable option. The popular second-hand caravan market will once again be part of the expo. Caravan Park will certainly come in handy for all caravanners as an on-site parking space for all fans and visitors of the show!