| | | |
| --- | --- | --- |
| 2.–4. 11. 2023 | 9:00–18:00  | |
| 5. 11. 2023 | 9:00–16:00 | |
Ticket type

at the gate

Basic admission fee

150 CZK
200 CZK

Discounted admission fee
- children from 6 to 15 years of age
- students with valid proof of student status
- students with ISIC card
- people over 65
- holders of disability identification card (ZTP, ZTP/P)

not available
200 CZK

Free admission
- children up to 6 years of age
- guides of ZTP/P card holders

free of charge
free of charge
Aditional info about tickets
Tickets can be paid in cash or by card.
We accept payments in Czech crowns (CZK) only.
All tickets are valid for one entry to the premises.
When claiming a discount, please produce a document entitling you to the discount.
Answers to the most common questions about buying tickets online can be found here.

Entrance by foot is possible through:
main entrance –⁠ stop Výstaviště - hlavní vstup (tram 1, trol 25, 26, 37, bus 52)
entrance G2 –⁠ stop Výstaviště - vstup G2 (pouze tram 1)
hall E –⁠ entrance ramp parallel to the entrance 4, stop Křížkovského (bus 44/84)
For enty with your car please use only gate 4. Parking is available directly in front of Hall P.
| Parking price list: | | |
| --- | --- | --- |
| EXPOPARKING | | |
| Unguarded, prepaid | | 1 000 CZK/event (excl. VAT) |
| Unguarded, single-use | | 20 CZK/hour incl. VAT |
| ON PARKING LOTS | | |
| Unguarded, prepaid | | 1 000 CZK/event (excl. VAT) |
| Single-use | | 150 CZK/day incl. VAT |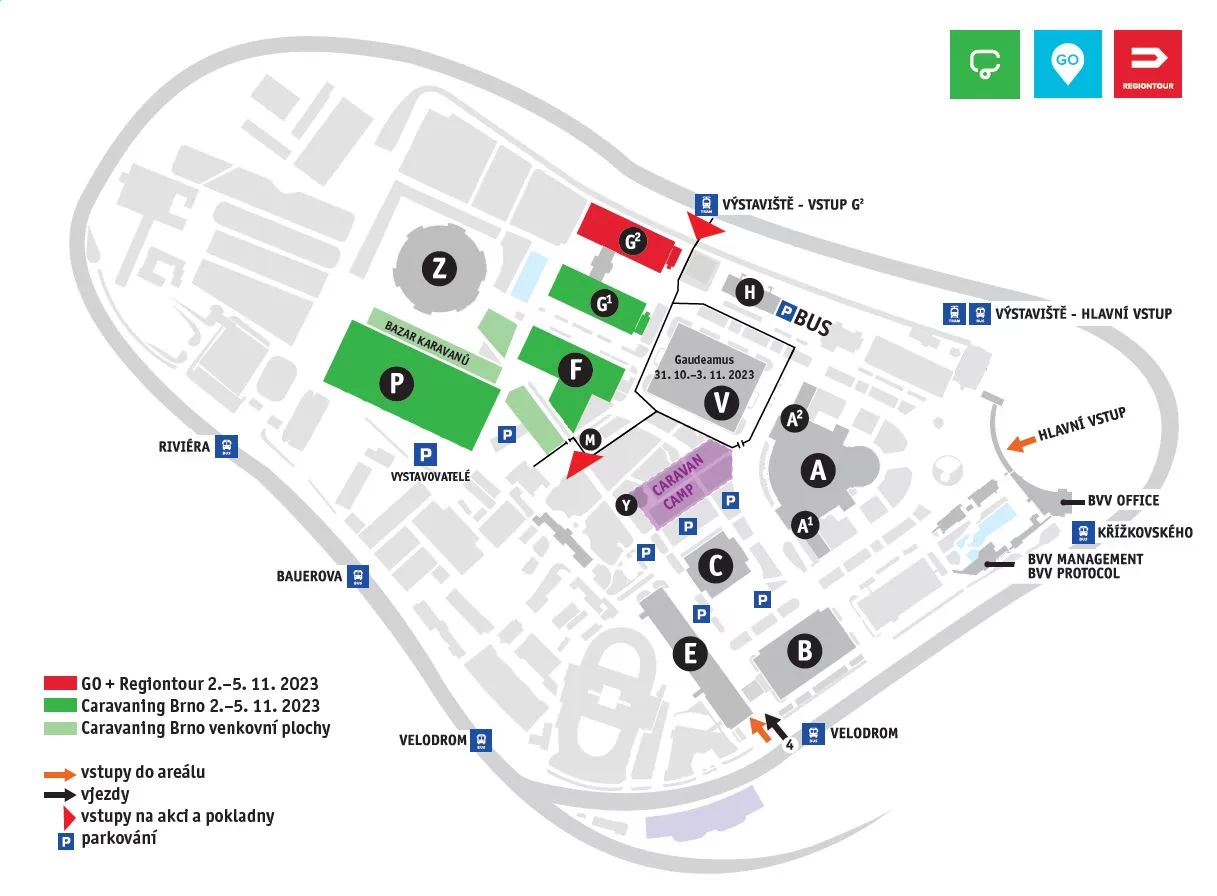 Entry with dogs
Dogs allowed only on a lead. Bigger dogs must wear a muzzle at all times.
ATMs
An ATM run by ČSOB is just outside of Hall E. An Euronet ATM is just outside of Hall F (towards Hall Z).
Food and drinks
Restaurants in Halls P and F are open during events. Refreshments can also be found in the outdoor areas.
Wheelchair access
The expo grounds are accessible for wheelchairs. We recommend using Gate G2, which is equipped with a lift.
Bicycles and scooters
It is not allowed to enter the expo grounds with a bicycle or a scooter. Please use the racks in front of the main entrance to station them.
Wi-Fi
BVV FREE network is available inside the halls.
Cloak room
The expo grounds have no facility available for dropping off coats or luggage.
Baby friendly
You will find baby changing stations at the ladies' toilets in Hall P.
Taking pictures and videos
Taking pictures and videos at the exhibition grounds is generally possible. However, if an exhibitor expressly asks you not to do so, please comply.
Recordings made on the premises
By entering the premises, you agree to the making of audio and video recordings to promote the event.
Lost and found
Lost and found items are deposited at the staff entrance, next to the main Gate 1.
Benefit cards
Benefit cards cannot be used to pay for tickets.