MSV International Engineering Fair is Back to Its Pre-covid Magnitude
October 7, 2022 / 4:20 PM
The largest Central European trade show of industrial technology brought together 1,256 exhibiting companies from forty-one countries. Compared to last year's season, the number of participants increased by 20 percent and the extent of the expo grew by three exhibition halls, with exhibitors' displays occupying a total of eight exhibition halls. Over 52,000 visitors came in to see the MSV International Engineering Fair's offerings over the four days, a 50 percent increase over last year.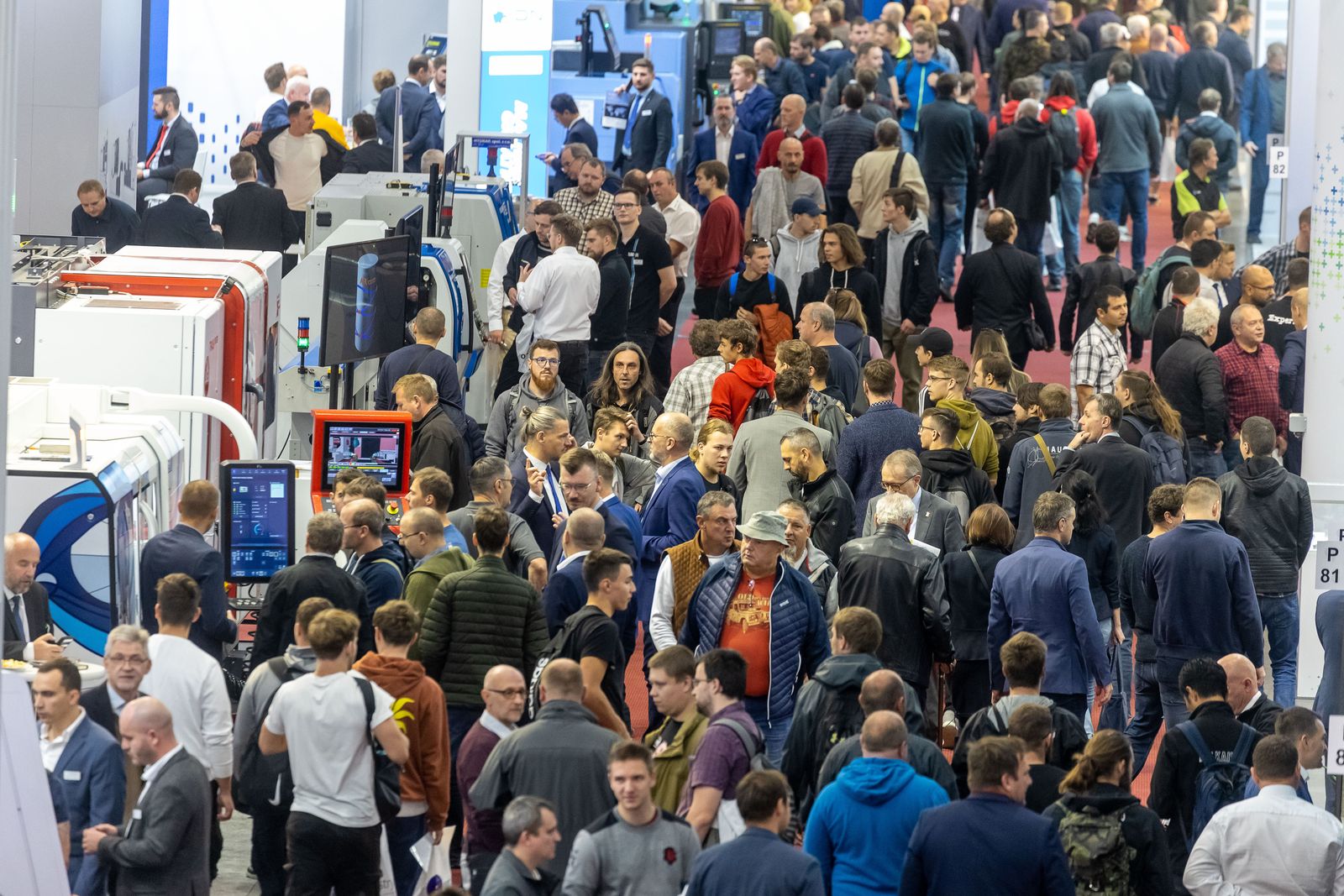 After the covid interruption, we have once again set in full motion those gears that have been the symbol of MSV since 1959. The participation of exhibitors and visitors has shown that this expo remains a prominent place for industrial companies," said Tomáš Moravec, CEO of BVV Trade Fairs Brno, evaluating the 63rd MSV.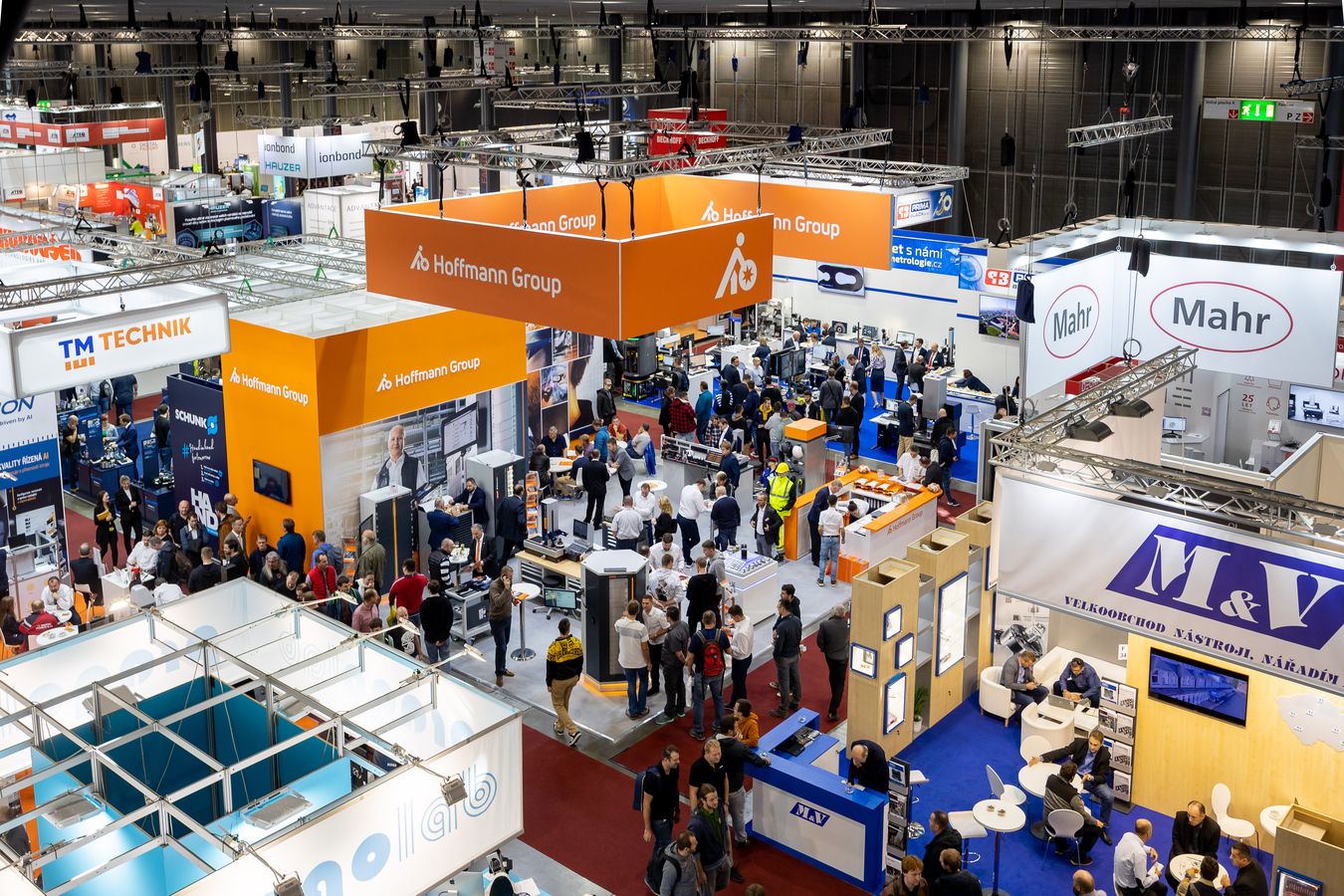 Window to the future of industrial manufacturing
The key theme of digitalisation resonated throughout the fair; it was comprehensively addressed by the Digital Factory 2.0 exposition, which this year occupied a record-breaking area in Hall F. Individual digital exhibits, technologies, and complete solutions for smart factories with intercommunicating production and logistics systems and fully automated control were available for viewing. Over forty companies participated in this project, led by Siemens as the Gold Partner. For the first time, the National Centre for Industry 4.0 was present, with a 5G industrial network installed at their display; this network was used by robotic applications at the stand. The project also included a digital stage for the presentation of specific solutions and case studies.
The mainstay of this year's trade show was manufacturing technology, and in particular machine tools and forming machines highlighted by the biennial IMT international trade fair. At the same time, MSV hosted the specialist trade fairs FOND-EX (foundry), WELDING (welding technology), PLASTEX (technologies for processing plastics, rubber and composites) and PROFINTECH (surface treatment). The stands at these fairs also showed how production across industries is changing with the advent of digitalisation, robotics and virtual reality. Sustainability of industry was also in focus – especially its energy efficiency, but also the reduction of its carbon footprint and more efficient management of materials.
New directions of international cooperation
This year's strategic partner was the Auvergne-Rhône-Alpes region of France, which is the most industrialised region in France. Its delegation was led by the region's vice-president for international relations Philippe Meunier, who in his speech at the opening of the fair highlighted the excellent cooperation developing between Czech and French companies. "We decided to support this expo because when we face a crisis, we need to find good allies. We were here last year; we are here this year and we will be here next year. We want to strengthen our relationship further, and industry is important for creating new opportunities." In cooperation with the French-Czech Chamber of Commerce, 28 French companies showcased themselves at this year's MSV, which was the highest number over the last 20 years.
Finland opened its official collective participation at MSV for the very first time. Six innovative Finnish companies in the field of digitalisation presented themselves as part of the Digital Factory 2.0 project. The German federal state of Bavaria, and also Hungary, Moldova, Germany, Poland, Austria, Slovakia and Taiwan opened their joint official expositions at MSV 2022 sponsored by governments or export promotion institutions. Official delegations from the Indian state of Tamil Nadu and the German state of Saxony-Anhalt, among others, visited the fair.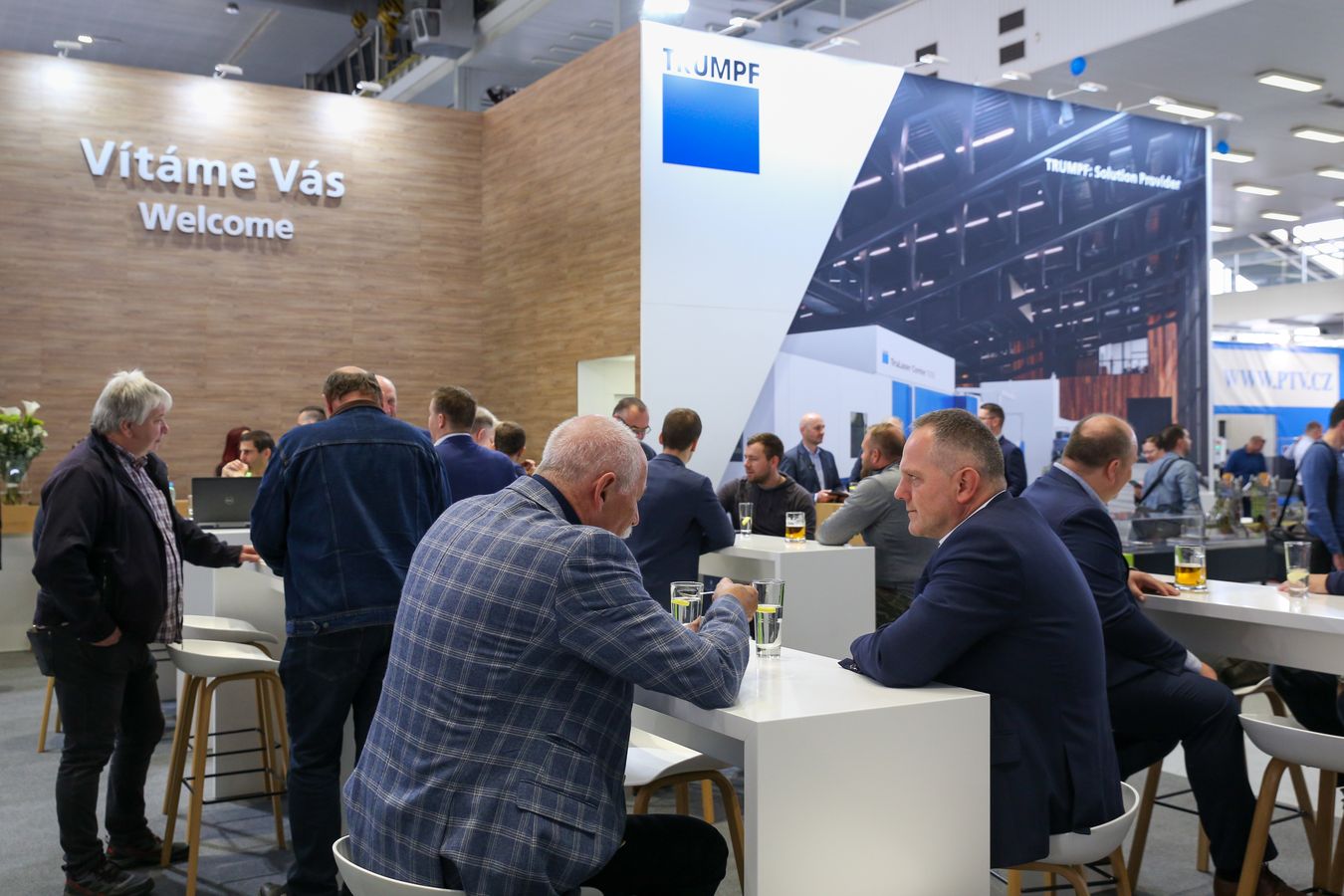 A platform for contacts between the state and entrepreneurs
Needless to say, the VIP guests included also representatives of the Czech government. On the opening evening we heard keynote addresses by the Prime Minister Petr Fiala, the Vice-Chairwoman of the Senate of the Czech Republic Jitka Seitlová and the Minister of Industry and Trade Jozef Síkela. The government officials discussed directly with entrepreneurs at the traditional Assembly of the Confederation of Industry of the Czech Republic, where the president of the Confederation Jaroslav Hanák presented the government with seven tasks for the next year.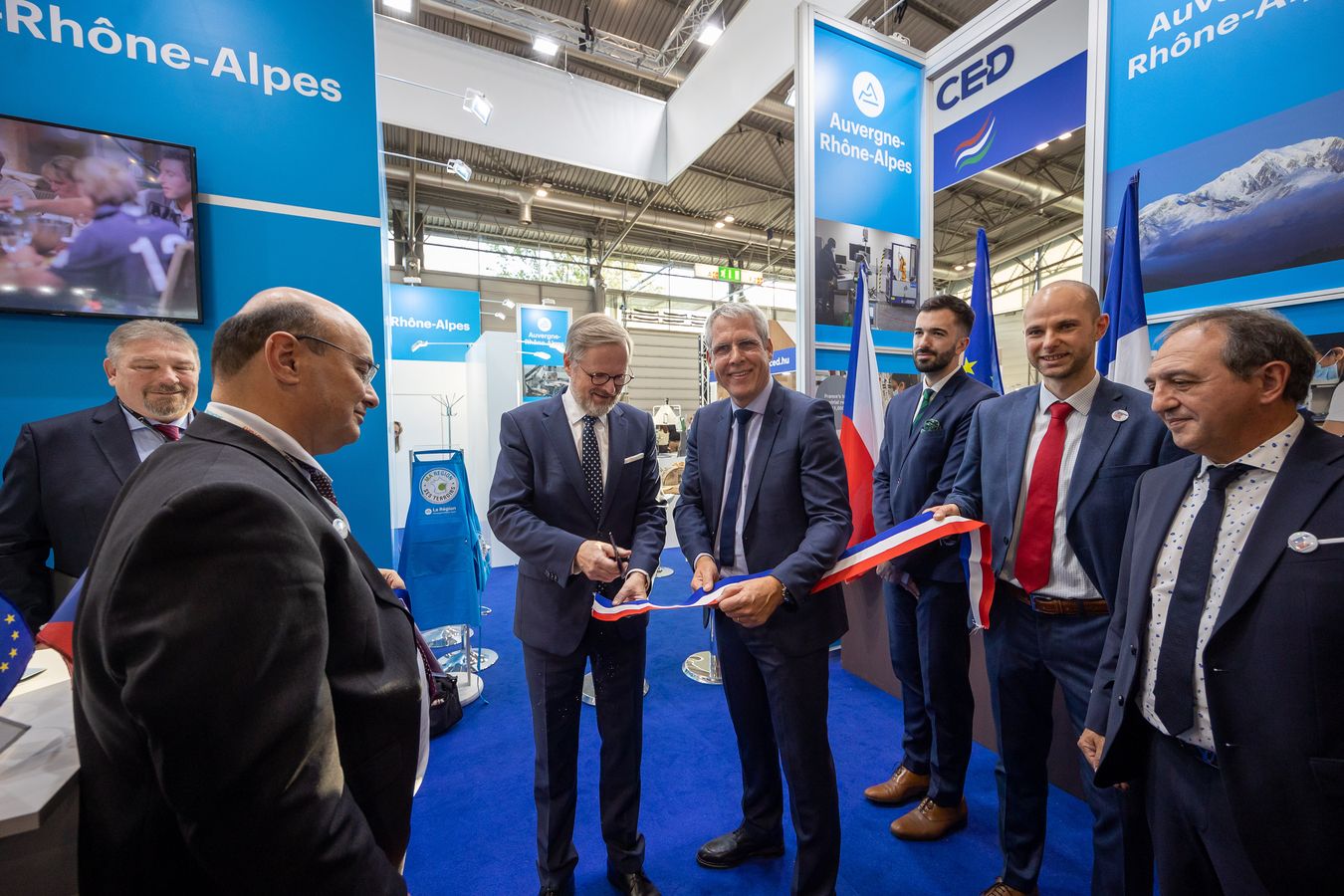 For the third time, the Czech National Exposition was opened at MSV, which brought together the state's services to entrepreneurs in one place. The President of the Senate of the Parliament of the Czech Republic Miloš Vystrčil attended the opening ceremony, and a total of twelve state organisations related to industry or export promotion presented themselves. There were also interesting exhibits such as a unique mobile laserscanner from Intellmaps, which can reduce the digitization time of buildings to hours, or the state-of-the-art simulator for virtual pilot training called F-16 Classroom from the company VRgineers. The exposition also featured an interesting extra programme, including the traditional meeting of entrepreneurs with twenty-two directors of CzechTrade's foreign representations – Meeting Point CzechTrade 2022.
Extra programme covering a broad range of topics: from 3D printing to energy management
Dozens of events – conferences, workshops, seminars, and panel discussions – were held as part of the specialised extra programme. Traditionally high attendance was seen at the Additive Manufacturing Forum, this year focusing on the usability of 3D printers in established operations. The French-Czech Forum at MSV sought solutions for reducing energy consumption and sustainable industrial development. The Swiss Inovation Forum 2022 was inspired by the experience of Swiss engineering companies. The traditional Contact-Contract matchmaking initiative facilitated meetings of business partners throughout the duration of the expo. The Markem Imaje Packaging Live project presented a model robot-controlled packaging line. Guided tours uder the heading of MSV TOUR returned to the offer for visitors, attended by hundreds of people interested in digitalisation and the cutting-edge solutions presented. A new event for the last day of the expo was a project entitled IndusTRY: Try It with Industry. This conference was designed exclusively for pupils and students and it was full to capacity, showing the attractiveness of modern industry with the aim of increasing interest in technical fields.
A new feature – MSV Digital
A virtual space at msvdigital.cz was launched together with the International Engineering Fair for the very first time this year. "Digitalisation was the main theme of the fair, and even MSV itself has moved into the digital era. By launching the MSV Digital platform, we have managed to extend the real fair into the virtual space. I believe that in the coming years even more exhibitors will use these new features to multiply the effect of their presentations," said Moravec.
MSV 2022 Gold Medals for the best exhibits
The best exhibits once again competed for the prestigious MSV Gold Medals. The expert evaluation committee handed out six Gold Medals for innovative exhibits, plus one Special Prize. A Gold Medal for lifelong creative technical work and innovative achievements was awarded to Professor Jan Macek, Head of the J. Bozek National Centre of Competence for Land Vehicles, and the company BVV Trade Fairs Brno also awarded an honorary Gold Medal to Jaroslav Hanák, President of the Confederation of Industry of the Czech Republic, for his lifetime contribution to Czech industry.
The Gold Medal for an innovation proven to have been created in contractual cooperation between companies and research organisations was awarded to the Hydrogen Bus with Low-Pressure Metal Hydride Tanks by the manufacturer Rošero-P, s.r.o., and the exhibitor Technical University of Košice, Faculty of Mechanical Engineering TUKE. In the category of innovation of production machine the exhibit EVO 4-Cylinder Sheet Metal Bending Machine of the manufacturer HAEUSLER AG and the exhibitor Maqfort s.r.o. won. In the category of innovation in processing technology, the jury was most impressed by the Hot Runner System for Zinc Die Casting from the manufacturer Ferrofacta GmbH and the exhibitor Eichler Company a.s. In the category of innovation in automation technology and Industry 4.0, the prize was won by the exhibit Intelligent Digital Twin at the ŠKODA AUTO Press Plant from the manufacturers Lisovna ŠKODA AUTO, Cerebrica, s.r.o., TWINZO and the exhibitor Lisovna ŠKODA AUTO a.s. In the category of innovative components in mechanical engineering, the Gold Medal was awarded to the High Precision Cooling System – ECHO by the manufacturer Regional Technological Institute (RTI) and the exhibitor University of West Bohemia in Pilsen, Faculty of Mechanical Engineering - RTI. In the category of innovation in transport and logistics, the winner was the Unique Composite Urban Low-Floor Hydrogen Bus from the manufacturer and exhibitor Mobility & Innovation Production s.r.o. The special prize of the jury was awarded to the Thermal Management of Cylindrical Batteries by Means of a Heat Exchanger Using Polymer Hollow Fibres. Its manufacturer is Promens Zlín a.s. and the exhibitor is the Brno University of Technology, Faculty of Mechanical Engineering.
64th MSV International Engineering Fair
will be held alongside
the Transport and Logistics, and Envitech fairs
at the Brno Exhibition Centre
from 10 to 13 October 2023.
What people said about the expo
Petr Fiala, Prime Minister of the Czech Republic
MSV is not just another trade fair; it is an exceptional gathering of experts, top executives, and investors from all areas of industry. It is an excellent opportunity to see innovations in industrial fields and it is also an opportunity to show the strength of Czech companies and establish new contacts.
Jitka Seitlová, Vice-Chairwoman of the Senate of the Parliament of the Czech Republic
We find ourselves in complicated times, and particularly cooperation, exchange of information, but also innovative technologies and good business relationships, for which this trade fair is an opportunity, will help us to cope successfully. This Brno-based trade fair is the most important industrial trade show in the whole of Central Europe.
Jozef Síkela, Minister of Industry and Trade of the Czech Republic
We can all see here that face-to-face contacts are virtually indispensable for building relationships and trust between business partners. The number of participants at this year's expo, both exhibitors and visitors, not only from the Czech Republic but also from abroad, has convinced us of this fact. Together we must overcome the times when we are eliminating our dependence on Russia for raw materials and energy, and together we must establish new relationships, on which we are working hard at the moment. MSV is a good opportunity to take a step in the right direction.
Jan Grolich, Governor of the South Moravian Region
I am happy that big topics such as Industry 4.0, digitalisation, sustainability of industry, increasing the efficiency of industry and business in general are being presented on the soil of Brno and South Moravia. Trade fairs – and especially this particular Engineering Fair – play a significant role in the technological development of our region.
Jan Rýdl, President of the Association of Engineering Technology and CEO of TOS Varnsdorf
I was surprised by the high attendance of people at the fair. I like the fact that it is really lively here, a lot of meetings are taking place. It is clear that many visitors were really looking forward to this year's event.
Oldřich Paclík, Director of the Mechanical Engineering Technology Association
The overall participation of exhibitors at this year's expo is not bad at all. For the member companies of our association, we are roughly at 80 percent in terms of space and 100 percent in terms of the number of participants compared to 2019. That is why I see this year's MSV and IMT positively.
Feedback from exhibitors
Michal Hrdina, Sales Representative Roboshot, FANUC Czech
We are satisfied with the attendance, and we have made new contacts. I think it was very beneficial, and the fair fulfilled what it was supposed to. Visitors from the industry came to the stand. We also caught people that we didn't even know were interested in our machines and had the potential to buy our machines, so from that point of view it was very interesting.
Marcela Náhlovská, Marketing, TRUMPF Praha
We are very satisfied with the attendance. We are happy that it was finally possible to meet people face-to-face again.
Martin Volný, Sales Director, Prima Power Central Europe
This year's attendance is remarkably successful. There are always friendly hangouts as well as business meetings at MSV because it is a place that brings people together. It is also a place where we can present new products and also show machines that we want to draw our customers' attention to.
Tomáš Hůlka, Company Director, Maqfort, s.r.o.
We consider MSV to be the most important trade show in Central Europe. A similar event, especially on the domestic market, is unprecedented. It is a strong partner for establishing business conditions and we are honoured to be exhibiting here. MSV is especially important for expanding our customer portfolio and for presenting new products. It is a unique opportunity for us to show and introduce machines before we bring them to Hannover. And this one-month head start can be decisive for some interested parties. MSV also helps us to expand our reputation, because it makes us more visible in between our competitors.
Jakub Zeman, Marketing Specialist, Stäubli Systems, s.r.o.
We are regular exhibitors at MSV. I could not imagine this expo without Stäubli Systems. This trade show is an important part of our marketing portfolio and we send out invitations to all our existing partners a long time in advance to come and see us informally and discuss business matters. In recent years it has become increasingly important for us to boast a machine that has something to show. BVV Trade Fairs Brno always tries to be as forthcoming as possible and we greatly appreciate that.
Vít Hněvkovský, Marketing Director, KUBOUŠEK
MSV is an important event of the season for us. This can be demonstrated by the fact that we have not only one, but two stands this year. Every year we try to balance our expositions and prepare demonstrations for new and existing customers, but also for the public. This year we have prepared a measuring competition. Trade fairs still have their place among important marketing events, and we would not like to miss out on this opportunity.
Dagmar Sieberová, Marketing Department, Hoffmann Group
On behalf of our company Hoffmann Group, I must say that we are satisfied with the expo. We see it not only as a means to deepen our relationships with existing customers, but also as an opportunity to draw new visitors to our range of services and products. Customers know us mainly as a manufacturer of tools and instruments, but now we wanted to highlight the digital solutions and automatic dispensing devices we offer. Overall, we see the expo as a success.
Adam Kabourek, Sales Manager - Gripping Systems, SCHUNK Intec
After the interruption due to the pandemic, when the last Engineering Fair was a bit more modest, I think this year was a return to normal completely, and in a very positive sense. We perceive the fair more as a social event, as we meet a lot of partners and customers we already know. However, it also includes the fact that interesting new contacts occasionally appear.
Tomáš Ortman, Deputy Manager, ISCAR ČR
We evaluate this year's fair very positively. Almost all our important customers gathered here. We managed to get new contacts here, but because we have been on the Czech market for thirty years, our customers know us. It is a privilege for us to be here.
Hana Modlitbová, Head of Promotion Department, TAJMAC-ZPS
We are one of the traditional exhibitors at MSV. Despite the unfavourable current situation in our country and in Europe, this year we are exhibiting on almost the same area sizewise as in the pre-covid times. It is therefore obvious that this expo is an important event for us, which complements our business activities.
Pavlína Křepelková, Sales Director, TOS KUŘIM – OS
People have been coming to the expo, there is a big attendance, specific contracts are being actively negotiated. It is not just about the social part when people meet up. It is about projects and contracts, so for us it is simply great. The aisles are full, there is somebody sitting at every table. I want us to be visible. By that we are saying, at least to the Czech industrial world, that we have survived on covid, and we can afford to be here.
Monika Šimánková, CEO of ITS Group and Chair of the Board at HESTEGO
I have an exceptionally good feeling about this year's expo. Compared to last year, the participation of exhibitors has increased and there are a lot of visitors. Our stand is full all the time, so we are satisfied.
Rostislav Pokorný, Deputy Managing Director, DATRON-TECHNOLOGY, s.r.o.
We are one of the fixed stars at MSV. This year we are here for the 14th time, and it still surprises us how powerful trade fairs are as an offline marketing tool. In recent years, we have noticed a trend that mainly the trade public, partners and potential customers are coming in. We are pleased that especially for these groups MSV is still important and they see potential for business affairs. We were pleasantly surprised by this year's attendance. We expected a slightly lower interest from people, but on all days the attendance was beyond expectations.
Veronika Němcová, Head of Communication CZ, Siemens
On behalf of Siemens, we can see that there were more visitors than last year, which we evaluate very positively. I think it was also a good step to shorten the expo to four days, we definitely evaluate it positively and we are in favour of keeping it that way.
Tomáš Vravko, Company Director, AYES
The number of visitors exceeded our expectations. Our stand was crowded from morning to evening on all days, so from our point of view we are really satisfied. A lot of high-quality companies appeared; I think the contribution will be high. We had a lot of students as schools also came in, as well as industrial companies; it was a particularly good mix of visitors. The quality of enquiries was good.
Martin Miřátský, Director, Vanad 2000
We exhibit at MSV every year and it is always important for us. The fair always brings some customers and participation is worthwhile for us.
Irena Kubelková, Sales Manager, Laempe + Panáčková
On behalf of our company, I must say that we are positively surprised. I think that Wednesday and Thursday may have even surpassed the pre-covid years a little bit. For us, the Engineering Fair is always one of the key moments where we can present and demonstrate products to people. It is one of our biggest sources of contacts and new customers.
Marek Boor, Sales Director, ADITEG
MSV is an opportunity for us to present the company to new customers and strengthen relationships with existing ones. We are specialists in rubber, plastic and cork products and other materials and we can present all this in the hall dedicated to plastics. This is an important event on the Czech and Slovak markets, where exhibiting still makes sense.
Jitka Kocálová, Marketing, Fronius Czech Republic
We have come to MSV now after a three-year pause. Thanks to it, however, we can present three new products at the same time, so it was worth the wait. It is an event we always prepare a year in advance. For us, MSV is primarily a place where we can meet informally with partners and visitors. We also have several school excursions here, where we meet representatives from high schools and colleges that use our machines. This meeting is crucial for us because the school representatives can try out our new products, and then purchase them for their classrooms. We are also positive about the shortening of the fair. Even big global fairs last fewer days, but they are packed with action. It is a very efficient method, and thanks to it we haven't had a minute of quiet at our stand yet.
Jakub Vavrečka, Managing Director, Valk Welding
MSV is the flagship event of Central Europe. It is unrivalled in the Czech Republic, which is why we come here every year to present new products. It is an important marketing event where we must not be absent. It is also a great place to attract new customers, strengthen relationships and present the company. We will definitely come in again next year so that we don't miss out on anything.
Vladimír Makovský, Head of Sales for the Czech Republic, BOMAR
This year we cannot say a single complaint. The atmosphere of MSV is perfect and thanks to the fact that we are exhibiting here, we are making new business deals. It is a wonderful place to present the company, because the BOMAR brand is becoming known to the general and professional public. Attendance is high and the reduction from five to four days makes it very intense at our stand. We have not had a moment to take a rest, which is great.
Pavlína Staňková, Company Marketing, CLOOS PRAHA
MSV is becoming more efficient every year, and that is what it really needs. There are fewer non-trade visitors every year and the expo is really becoming a place for strengthening relationships and making new contracts. We are one of the regular exhibitors and we certainly do not plan to stop counting on our participation in the future. MSV has no competition in the vicinity, and it cannot be parallelled to any other trade show.